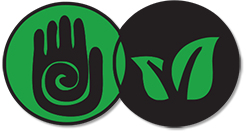 Back Again Mobile Massage - About
Providing Mobile Chair Massage Services To The Las Vegas Valley
Back Again Mobile Massage is a small family, eco-friendly business in Las Vegas providing mobile chair massage services. It was established by Jennifer Bickford, a 1999 graduate of Physician's Institute of Therapeutic Massage in Las Vegas. Jennifer worked as a licensed massage therapist for several years in day spas, medical spas, and chiropractor offices while often using chair massage as a marketing tool to build clientele.

The mobile aspect of chair massage promoted a diverse work experience and clientele which provided the background necessary to succeed in a wide range of settings and led Jennifer to start up Back Again Mobile Massage in 2003.
Small Family Business

Eco-Friendly

The small business in mobile chair massage, specializing in corporate, worksite wellness, conventions, and special events quickly took off. In 2006, Stephanie Sorrell, Jennifer's younger sister, became a certified licensed massage therapist and joined Back Again Mobile Massage. The sister's dream of owning a small family business became reality and has continued to grow in the last decade.

Back Again Mobile Massage now consists of a team of professional massage therapists. We are committed to promoting wellness in our communities and environment though relaxation and rejuvenation services. We pride ourselves with being an eco-friendly company and strive to make a positive impact on the people we touch, as well as, the planet we live on.

Many companies, small and large, are on various paths to being sustainable. Our intentions and efforts have always been to peacefully integrate human needs with those of the planet. We use fair trade and organic products and minimize our carbon footprint of being a mobile business by driving hybrid and flex fuel vehicles.

Help us honor our commitment to effective positive social change by developing and employing extraordinary practices that benefit our team, our clients, our communities and the environment.

We are eager for you to experience why more and more people in Las Vegas are having us 'Back Again' for their mobile massage therapy services!